Regent Seven Seas Cruises
2021-2022 Voyage Collection Now Open!
Sail the globe with the anticipation that springs from finding new discoveries and diving into the fresh experiences that await with the Regent Seven Seas Cruises'
Where will you go next? Find your answer in Regent's 2021-2022 Voyage Collection Debut, with new ports of call, first-time sailings for Seven Seas Splendor™ in the Baltic and Seven Seas Explorer® in Alaska, immersive new Land Programs, incredible new Shore Excursions and access to the newly announced UNESCO World Heritage Sites in Japan, Portugal and Italy. Explore Asia on any of our 10 voyages sailing the region and discover more through the multiple in-port overnights. Delve into the mighty Amazon for your first time or visit the Holy Lands to ground your understanding of the world religions that originated there.
ONLINE BROCHURES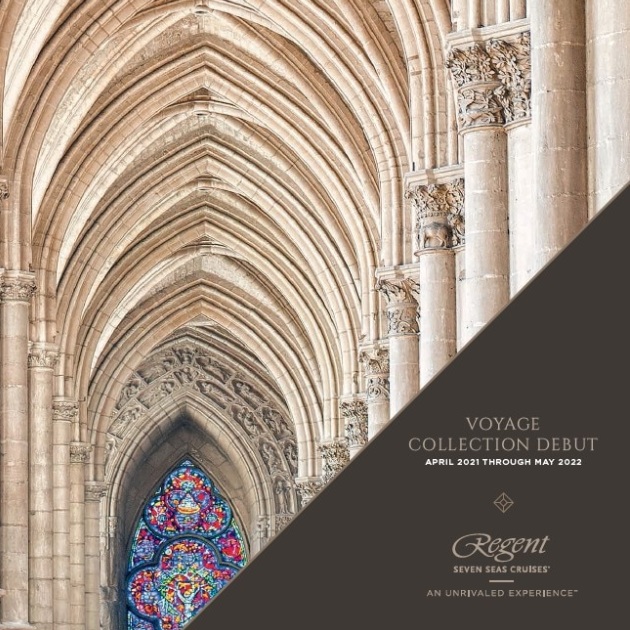 Every Luxury Included
Regent gives you more then just the most luxurious ships, they give you a truly all-inclusive luxury travel experience. All-inclusive fares include..
Round Trip Air
Business class round trip air on intercontinental flights in business class or domestic flights from 29 gateway cities across the U.S. and Canada. At the airport, a local, English-speaking representative waits for you at baggage claim and escorts you to comfortable transportation.
Shore Excursions
Embark on an unforgettable journey, enjoying as many shore side tours and experiences as you wish , from encountering majestic wildlife to sampling delicious cuisine to touring iconic UNESCO World Heritage Sites
Specialty Restaurants
Make exquisite dining experiences the highlight of your voyage. Join us at any of our elegant restaurants. Delight your palate in superb menus that feature French, Italian, Pan-Asian, and steakhouse fare, each accompanied by our exquisite wine lists.
Unlimited Beverages
Delight in the freedom to sample expertly mixed cocktails and adventurous wine blends without having to commit to an entire bottle.
Cuisine
Nothing elevates travel quite like exquisite cuisine. Regent craft's exquisite dining experiences that are nothing short of superb. Experience all of the wonderful flavors of cuisine from around the world.
Savor the bouquet and notes of the expertly paired glass of wine provided by the head sommelier and bite into a perfectly cooked and skillfully selected filet mignon at Prime 7. Savor every appetizer at Compass Rose like the perfectly balanced soft-poached egg with black truffle and be transported with the authentic and delectable dishes of Chartreuse, Sette Mari at La Veranda and Pacific Rim.
Suites
Experience a new level of comfort in your home away from home. Regent suites bring you the best in sumptuous living, from 300 to over 4,000 square feet, adorned with the finest décor and best-in-class amenities. Every suite across their five ships delivers incredible ocean views — 98% of which are enjoyed in the solace of a private balcony.